The St. Augustine's Orphanage web site has been created because of the generosity of Janette Lier, a member of the Geelong & District Mailing List, who has transcribed the St. Augustine's Orphanage, Geelong : Admissions & Discharges Register 1857-1878.  Jan offered her work to be put on our web site for the benefit of all ....... Thank You Jan!
Please do NOT ask for information on people in this or other orphanages in the Geelong region - this web site ONLY covers people and details listed in the previously published microfiche of Admissions & Discharges for the years 1857-1878 - I have NO other years, NO other people, NO other information!
A short history of the orphanage will assist with understanding the contents of these records.
In May 1854, a corrugated iron church and school was opened on two acres of land between Noble Street and Queens Road, Newtown.  The land had been granted by the Government for "Roman Catholic Church Reserve".

The Friendly Brothers was an organization of Catholic laymen whose purpose was to alleviate hardship among the poor.  They opened St Augustine's Catholic Orphanage in Newtown, Geelong, in 1857.

By December 1855 the Government had granted three acres of land at Newtown for the site of an Orphanage (across Queens Road to the north of the Church Reserve).

15th March, 1857, Bishop Gould laid the foundation stone of St Augustine's Orphanage.

The architects were Joseph L. Shaw and Richard A. Dowden.  The first section accommodated about 20 boys and 15 girls.  This building exists today as part of St. Joseph's College, Newtown.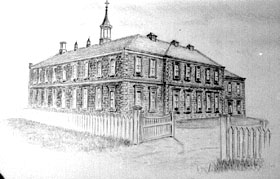 St Augustine's Orphanage - the original building did not include the wing shown in the right half of this sketch.  
Sketch by Mr W.J. Smith, Geelong Historical Society
  
13th December, 1857, Bishop Goold laid the foundation stone of a more permanent sandstone structure further west on the same land.  Both buildings faced Noble Street.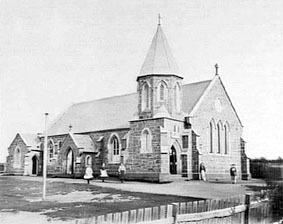 The Noble Street Church and School, built 1857.  
  
Extensions to the original building were built in 1858, 1860 and 1861.  By 1862, St Augustine's Orphanage had grown to 62 children.

In December 1859, the Sisters of Mercy took charge of the girls at St Augustine's, with two Mercy sisters residing there until 1862 when the girls were removed to Our Lady's Orphanage adjacent to the convent at Newtown.  The transcribed records generally only show a year of discharge for girls after 1862, whereas earlier discharges show a full date.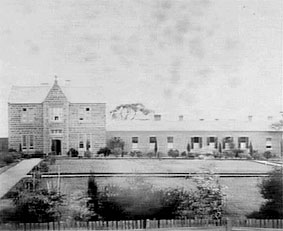 The Convent and Orphanage, Newtown
  
The Christian Brothers took over St Augustine's Orphanage 18th November, 1878 - signifying the extent of the Admission & Discharge records included in these registers.
Notes from the Registers
St. Augustine's Orphan Asylum
Opened at Newtown, Geelong, August 19, 1857
Patron : The Right Reverend J.A. Goold D.D.
Treasurer : The Very Reverend James B. Hayes D.D.
Trustees : Patrick McDonald Esq. J.P., Joseph Pelley Esq., Thomas Powell Esq.
Hon. Secretary : Daniel O'Driscol
Treasurer from January 1 1865 : V.R. Matthew Downing to December 4 1870 on which day he died.  Ven Archdeacon P.J. Slattery succeeded last as Treasurer.
Master : Daniel O'Driscol 1857-1878
Matron : Hannah Condon 1857-1858
Matron : Catherine Crowly 1869
Matron : Mrs McGovern and Mary A Acton 1860
Matron : M.A. Harty 1861
Matron : Mary A. Harty and Margaret Martin 1862
Matron : Margaret Martin 1863 to October 1871
Matron : Margaret A Bennett October 1871 to November 1878.

The Christian Brothers took charge of the St. Augustine's Orphanage November 18, 1878.  Patrick C. Butler, Director.
Bibliography
Brownhill, Walter Randolph (with postscript 1955-1990 by Ian Wynd)  The History of Geelong and Corio Bay, Geelong Advertiser, Geelong, 1990.

Chapman, Peter  St. Augustine's and the Christian Brothers : An Archival History, 1993.

Wynd, Ian  Geelong the Pivot, Geelong Historical Society, Geelong, 1986.
Registers
The registers together with various financial and historical reports have been microfiched and are available in many genealogical / historical societies and libraries.

NOTE : The admission and discharge registers as they appear in the microfiche have been transcribed in FULL - they are not an index.  They have however been sorted into surname order and admission and discharge details have been combined for each person.

IMPORTANT : Some of the original writing is difficult to read so please be "creative" when looking for surnames / spelling variations.
St Augustine's Admissions and Discharges : 1857-1878
---