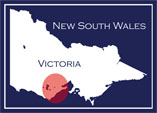 So where is "Geelong and District"?
It is in Victoria, Australia.
The boundaries are not rigid but basically cover an arc from the Otways up to a little south of Ballarat, across to Werribee and all points to the south east of that area.
Many of the web sites, databases and indexes cover this area, others are more focussed on specific areas, BUT one thing of which you can be assured - the information provided just keeps on growing.  Enjoy!
---