The following are extracts from Ocean Grove Primary School No. 3100 : Centenary 1891-1991, written and compiled by Peter Millis.
"S.S. 3100 Ocean Grove, in the Parish of Bellarine, County of Grant, was first proposed by Frederick Brown in 1890, and was opened by Miss Jane Ellis on the 21st March, 1890 with thirty one pupils in leased premises in The Parade.

The School was part-time with S.S. 1313 Newington until it moved into the ex-Steiglitz School on the present site in Draper Street in 1892. Decreased attendance caused the School to be made part time with S.S. 2029 Marcus Hill in 1928, and closed in 1930. It reopened in 1932 with a steady attendance that increased rapidly in the post war period of migration.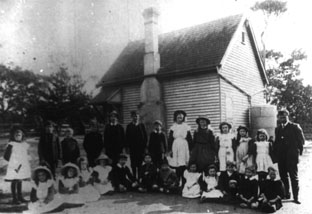 Ocean Grove State School in 1910 showing Mr. Hugh Clark and pupils. Hugh Clark taught at the school for almost 30 years and was Head Teacher from 1911 until 1925.
[Photograph from the Ocean Grove Album compiled by Bob Irving, courtesy of John Irving, Ocean Grove]
By 1960, there were three hundred pupils in eight classrooms, on a site now extended to five acres. Improvements effected by the Committee, which first met on the 25th September 1911 with J.B. Menzies as Chairman, gained for the School the ANA Prize in 1966. Consistent work by the Mothers Club (now Parents Association) has provided excellent amenities and equipment.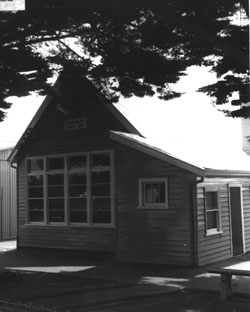 Ocean Grove Primary School in 1977.
[Photograph from the Ocean Grove Album compiled by Bob Irving, courtesy of John Irving, Ocean Grove]
The School continued to expand rapidly during the 1970s and 1980s with enrolments reaching 700 in some years. The 1991 enrolment has been steady at approximately 650 students.

With the construction of a second government primary school in Ocean Grove in the Surfside area, due to be completed in 1992, the pressure will be relieved on the Ocean Grove Primary School with a projected enrolment of just over 400. It is hoped that extensive refurbishing and site works will be undertaken to upgrade the facilities of the School to provide a more pleasing learning environment for the pupils as we approach the 21st century."
---