The following was written by Alix Townsend - the creator and editor of the Echo :-
I always say that the Echo "just happened" - it was quite unplanned and had very humble beginnings, first appearing in September 1962 as a four page newsletter for Ocean Grove and Barwon Heads.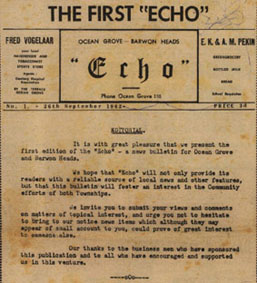 This copy of the first Echo was reproduced on the front page of the Bellarine Peninsula Echo on Thursday 16th November 1972, to celebrate its 10th birthday.
Ocean Grove - Barwon Heads "Echo", No. 1 - 26th September 1962 - Price 3d.
EDITORIAL
It is with great pleasure that we present the first edition of the "Echo" - a news bulletin for Ocean Grove and Barwon Heads.

We hope that "Echo" will not only provide its readers with a reliable source of local news and other features, but that this bulletin will foster an interest in the Community efforts of both Townships.

We invite you to submit your views and comments on matters of topical interest, and urge you not to hesitate to bring to our notice news items which although they may appear of small account to you, could prove of great interest to someone else.

Our thanks to the business men who have sponsored this publication and to all who have encouraged and supported us in this venture.
It was not the first publication for the township. A newsletter edited and printed by a family names Johnston circulated for several years, the last issue covering the township celebrations in August 1957. The Johnston family, I believe, returned shortly after to their home in England.
One Friday morning about five years later, I was busy with domestic duties at home on my day off from teaching at a College in Geelong. I was approached by an Austrian printer, Mr. Oplt, with a view to producing a joint newsletter for Ocean Grove and Barwon heads. He needed one more client, he said to assist him to establish his printing business as a payable concern. Cr. Reg Guyett, who knew that I had reported regional news at times for the Geelong Advertiser, had sent him along.
The idea of running a newspaper, however small, sent me into shock I think - however a round-the-table conference with my family resulted in the launching of the Echo within the next few days. Although I felt very inadequate I realised there was no need to be concerned - our younger children delighted in producing what they considered "news". As they attended the local Primary School there was always something happening, especially with the influx of the migrant people (1949 - on) and their ways of life and influence on the community here.
We followed up the changes in the school and the struggle for additional classrooms. We were involved with the Progress Association during its battle for improved lighting and telephone service. The churches began to grow - new congregations meeting in private homes. Clubs and business premises opening up demanded our attention with reports and representation at opening ceremonies.
In the early seventies we sent representatives (or went ourselves) to the monthly Council meetings - my husband was more skilful at reporting business meetings than I was.
The Echo became affectionately known as "the Rag".
Everything was acceptable in the beginning as front page news - even weddings. The only advertisement with an illustration for some time was Mitchell's Dairy - it featured a sad looking cow. We wrote everything up in long hand at home, in the bus, in the street, jottings on scraps of paper.



Mitchell's Dairy advertisement featuring the "sad cow".
The material was passed on to our first typist, Mrs. Barbara Pigdon, who typed it on a 54" Machine for dispatch every Monday morning to the printer in Geelong. On some occasions the deadline could not be reached but our printer was most generous, especially as one occasion was when our youngest child decided to arrive at 4.15am on Monday, February 10, 1964. I completed the copy early on the following morning!
The "Show" always had to go on, the printed newsletter was picked up in piles open, so that it had to be folded - a task completed weekly on our lounge or hall floor. Then it was up to the newsagents, to go on sale at 3 pence a copy - of course it was often read "at the counter". The four page issue grew to six, once or twice to eight and then ten, within twelve months we realised things had to improve.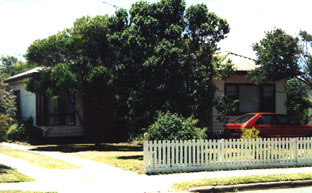 The first "newspaper office" of the Echo :
Alix Townsend's home in The Parade, Ocean Grove.
Our first step was to purchase the Portarlington Reflector (a larger paper) and to switch to a larger letter-press equipment, Henwood and Dancey of Geelong. Almost at the same time the Queenscliff Pilot closed down so we felt free to move in to that area. We had a paper that certainly looked a little more like a newspaper but to put in photographs or illustrate the advertisements was both expensive and difficult.
We were ready now for quite a bold move; this time into the sphere of the true newspaper - Melbourne printers Progress Press then at Glen Iris. After "sleeping on it" and seeking advice from several sources we launched our first free newspaper and became part of a whole new system. The "Home Industry" stage had gone and we obtained office premises. We had sloping benches installed and leased some very necessary but almost priceless (for us) equipment - a Headliner and a Varitype machine for the setting up of our paper.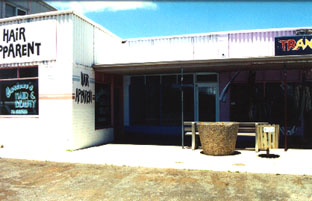 The Echo expanded into its own premises (centre) :
The Parade Shopping Centre, Ocean Grove.
We had to "go it alone" now and to learn the hard way. Two skilled women were employed for a start, after which we engaged local staff - and some of our own family.
We were a great team.
Once again our deadline was Monday (sometimes far into the night). As the Varitype ran out the columns of newsprint they were pasted on to backing at the sloping benches and the headlines were placed. Photo spaces were measured out and marked with carbon paper, the captions written for each one. When each page was ready, proof reading had to be done and the whole 10, 12 or 16 pages collected into an art folio to be despatched to Progress Press.
If all went well the bundles of folded, finished papers arrived by carrier next afternoon. There were moments of tension - on occasions dumping of newspapers, errors that could upset a good advertiser, local news that may not please someone, but in all the fifteen years there were more credits than let downs.
We made wonderful friends, especially when lost animals were involved.
News was received at all times, it was collected and written often amid great confusion but we felt that we have something back to the community which compensated for the pleasure of living here.
Once two journalists threatened to "take over" and sweep us off the Peninsula - the option to sell the Echo lock, stock and barrel for a very low figure. We called their bluff and it paid off.
The time did come, however when we would have to think about going in deeper to serve the ever-growing community, my husband was willing but his health was declining and we sold during our fifteenth year of operation to the Geelong Advertiser which still carries on the paper as the Echo with its present group of newspapers.
 [From Alix Townsend, author and editor of the Echo, Ocean Grove.]
Alix Townsend has written a wonderful book about the history of Ocean Grove and its people. These Friendly Shores : A personal history of Ocean Grove, is available from the Ocean Grove Newsagency.
---