A Place for You and a Place for Me
The once small village of St Leonards is now a rapidly expanding township, and is said to be named after a place in Sussex in England.
In 1849 Crown surveyors were at work and in 1857 there was a Government land sale. Some of the landowners who bought up big then were :-
| | | | |
| --- | --- | --- | --- |
| Alison | Hood | McBeth | Strong |
| Ball | Horne | McDonald | Stubbs |
| Baxter | Ibbotson | Nichol | Trewin |
| Blunden | Inglis | Parker | Ward-Cole |
| Chirgwin | Jenkins | Pigdon | Wills |
| Clarke | Jones | Ransom | |
| Harding | Knight | Selwyn | |
| Holden | Manifold | Sproat | |
Holden had the Circus on the foreshore and also the old Coffee Palace on the corner of Murradoc Road and The Esplanade. Later, Holden had the farm on the left of Dossiter's Cutting on the way to Indented Heads
One of the greatest landholders was Captain George Ward Cole. His property fronted the foreshore, skirting about the village of St Leonards and continuing around the coast almost to Swan Bay. Today on the Peninsula his name is almost forgotten, although still well remembered in Melbourne. History shows that he was a remarkable far-sighted man who more than any other fathered St Leonards.
Captain Cole was endowed with great wisdom and business ability. He viewed his vast acreage and cast his eye over adjoining properties - there could be much employment. The answer was obvious.
In most parts, the land was heavily timbered with fine trees, tall redgums and other varieties, and everywhere the sighing she-oak, so named because of its resemblance to the American Shee-oak.
Cole knew his Melbourne. He reasoned that it would be a good market for firewood, and a good trade could give employment for many years to men in St Leonards. Cole gazed at the sparkling waters of Port Phillip Bay and the vessels he owned which could be used for transport. Water carriage was cheap and swift - much better than carting heavy loads across the Peninsula to Geelong.
First of all homes had to be built, so in 1855 he built some of the first houses in St Leonards with the thoroughness for which he was noted.
He brought timber for a pier across the bay from Mt Martha. To build the pier, he used unsawn logs. Meanwhile, two hulks were used stern to stern as a jetty. It is said that part of one is still on the sea-floor.
When the wooden pier was complete, Cole sank the hull of an old ship at the end of the pier to give extra protection. Small ships then came and tied up at Coles Pier.
Industry started and axes bit deep into the trees. Piles of wood stood awaiting transport. St Leonards became noted for its timber trade. At one period it is said there were over 300 men employed in this work. Timber cutting as a big industry lasted until the 1870s.
At first, many timber workers lived in tents, but more houses were built and in 1860 five large brick kilns were owned and operated by Mr Anderson.
Cole's Pier was always busy with small craft calling in and loading wood. Wattle was used for the boilers on steamships and also used in the ovens of the Bakeries as it gave a good steady heat. The bark was boiled at the Tanneries for leather work.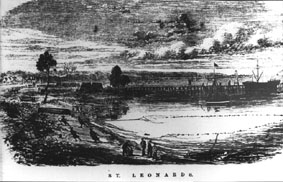 St Leonards - sometime after c. 1860.
[Photograph #571 : The Bellarine Historical Society photograph collection]
The fishing industry also grew. A number of Chinese arrived - in many places it was then usual to find a good proportion of Chinese in the population. At St Leonards there was a Chinese community who earned their living by fishing. One hundred Chinese lived along the banks of the creek and they sank wells to obtain fresh water.
It is said that the Chinese smoked and dried their fish, whereas the local fisherman sold by weight to a Mr Tobias and sent their fish by road to Geelong or Ballarat, and by water to Melbourne.
The Geelong Advertiser of 1865 tells the story of a very brave lad who lived in St Leonards. He was the son of Mr Henry Pigdon, a pioneer settler. This lad was engaged in timber cutting and there were many snakes amongst the timber. The boy was bitten by one on the finger. With great courage he killed the snake, then cut his finger close to the wound. Carrying the snake, he then walked two miles home.
St Leonards has grown since the early days - a place for senior citizens to enjoy their retirement, and for young families to enjoy the close friendly community.
Like all towns on the Bellarine Peninsula, the town comes alive in the holiday season.
St Leonards for Me !
[From Barry & Irene Buckle, Members of the Bellarine Historical Society]
---
Record Sources for St Leoanrds
Photographs : Bellarine Historical Society; Geelong Historical Records Centre; various private collections.
Maps & Plans : Bellarine Historical Society; Geelong Historical Records Centre.
Newspapers : Geelong Advertiser Indexes - Bellarine Historical Society & Geelong Historical Records Centre; Geelong Advertiser on microfilm - Geelong Historical Records Centre; various local newspapers - Bellarine Historical Society.
Miscellaneous Documents & Advertisements : Bellarine Historical Society; Geelong Historical Records Centre; various private collections.
Bellarine Shire Council Records : Geelong Historical Records Centre.
More recent Council Records : City of Greater Geelong.
Cemetery Records : (Portarlington or Queenscliff Cemetery) Bellarine Historical Society; Geelong Historical Records Centre.
Land Records : Registrar of Titles, Melbourne; Bellarine Historical Society; Geelong Historical Records Centre.
---
Bibliography
Brownhill, Geo. H. Illustrated Guide to Geelong And District, Facsimile edn., Deakin University Press, Geelong, 1990.
Campbell, A. J. Tourist Guide to Geelong and Southern Watering Places, Henry Thacker, Geelong, 1893.
Dunn, N.A. A history of Point Lonsdale, F. W. Cheshire Pty Ltd, Melbourne, 1949.
Loney, Jack. Shipwreck Strait, Marine History, Portarlington, 1993.
McLeod, Eunice. Early History of Portarlington and East Bellarine, Indented Head and St. Leonards, Eunice McLeod, Portarlington, 1962.
McLeod, Eunice. Portarlington, Indented Head, St. Leonards : History & Reminiscences, Marine History, Portarlington, n.d. (reprint with changes to above publication).
Wynd, Ian. Balla-wein : A history of the Shire of Bellarine, Shire of Bellarine, Drysdale, 1988.
Wynd, Ian. Geelong The Pivot : A Short History of Geelong and District, Cypress Books, Mont Albert North, 1971.
---