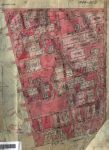 Updated 26th June 2016

Do you want to know who owned your land in Old Ocean Grove?  This database is an ongoing project however it contains at least the original Land Title owners for every allotment in Old Ocean Grove.  The details are on the Geelong and District Blog where major updates will be announced as they occur.  Many old photographs have also been added of some existing older buildings and some long since demolished.

Ocean Grove began as a private subdivision containing more than 2,263 allotments – by the time land-owner details were given to the local council for rates & valuations, unravelling the puzzle of who owned which allotment was just too hard to contemplate.
Some things are worth waiting for!  Just over 10 years ago – 10 May 2004 – I purchased and downloaded a digital copy of a Certificate of Title Vol 1946 Fol 389059.  This was the largest of several early Titles for Ocean Grove and contained 82 pages.  It, together with the other titles, was an absolute gold-mine for anyone researching early land owners in Ocean Grove.
Way back in 2004 I knew these Titles were the answer to this puzzle but it just seemed too daunting.  A recent week's holiday when it was cold and wet was the perfect environment – turning those ideas into a workable database.  And it worked!  10 years might seem a long time but when you see the end result, the wait was definitely worth it!
IMPORTANT DETAILS re owners:
Owner does NOT mean occupier

There are usually more changes of ownership in recent years which are NOT shown in this database

Transactions in the last TEN years are NOT shown in this database

Although details for these more recent transactions are available they are suppressed in the online version.

---
Save