On Pacey's Hill, beside the Wallington Road, overlooking Barwon Heads
Important Warning
The Newington Cemetery is NOT a public cemetery,
it is on PRIVATE PROPERTY.
Under no circumstances should anyone attempt to enter the property - please respect the owners AND the horses which occupy this area.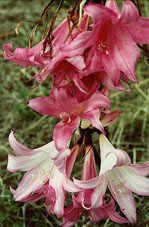 The Belladonna Lillies at Newington Cemetery.
[Photograph : The Bellarine Historical Society photograph collection]
The following is a copy of a document on the Newington Cemetery produced for various authories by Susie Zada, Bellarine Historical Society, April 1997.
This document was produced in April 1997 after more than twelve months of research into the area of Ocean Grove and Newington, and immediately following the uncovering of the last crucial piece in the jigsaw puzzle of the "Newington Cemetery".

The research is not complete, however it was felt that it was important to document the information already unearthed (no pun intended!) with the hope that further details would come to light as more people learn of our work to date.

It was also important to record these details and lodge them with appropriate organisations and authorities to ensure that no-one had to repeat the work we had already done.

The following sections appear in this document :-

The steps taken from the initial information to the details in this document, including sources and contributors.

The different names put forward from various sources as possible burials.

The list to date : showing confirmed burials (as certain as we can be!), possible burials and those excluded from the list, together with family links between the various names.

The next steps to be taken.

Photographs collected in the process of researching the Newington Cemetery.

Distribution of this document

Organisations and Authorities who have been provided with a copy of this document.

Since the production of the original Newington Cemetery document, more information has been provided or researched.



The plaque laid on 4th March, 1989 and uncovered in 1997.
In Memory of the Pioneers of this area especially those who are buried here.
[Photograph : The Bellarine Historical Society photograph collection]
---