In 1854, an initial application for land "for a church, school and a clergyman's House" was rejected but a second application in March 1855 was successful and land was set aside in Stevens Street.

L-R : School, presbytery and Holy Trinity Catholic Church
[Photo : Holy Trinity Parish, Queenscliff]
  
The Royal Hotel, run by William Leihy, was the location for the early Catholic Church services in Queenscliff.  Occasionally the hotel was so heavily booked, that Mass was celebrated at the home of Captain Rocket on the corner of King and Raglan Streets.   The "church" was not the only temporary and makeshift arrangement - a wash tub was supposedly used as a baptismal font.
Another local Catholic, Pilot O'Neill, was in charge of fund raising to build a church on the Stevens Street land.  Due to the small number of local parishioners, O'Neill appealed to Catholics in Melbourne who had started to use Queenscliff for their summer holidays.
In 1864, tenders were called for the masons' work on the new Catholic Church and the church was officially opened in January 1867.
The Holy Trinity Church, initially attached to Geelong, became part of the Drysdale Mission in 1891.  This parish also included the Catholic Church at Curlewis.
On November 1st 1899, Queenscliff became a parish in its own right with Fr. T J Quinn of St. Kilda East appointed to take charge of Queenscliff, Sorrento, Portsea and Rye.
Extensions to the church were completed in 1925 and although the church could accommodate local parishioners during the year, the summer influx of visitors meant that Mass had to be moved to the larger school hall.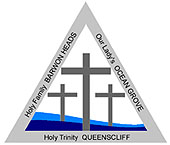 In 1980 the Holy Trinity Parish was extended to include Ocean Grove and Barwon Heads.
October 31st 1999 is the date for the Centenary Celebrations for the Holy Trinity Parish, Queenscliff, and all parishioners are encouraged to share their memories and photographs for the historic display for the celebrations.
---