The following information and photographs were kindly provided by Peter Alsop, President, Geelong Historical Society, and Bill's wife Audrey Morrow.
William (Bill) James MORROW
(30/1/1922 - 25/4/2000)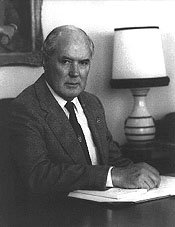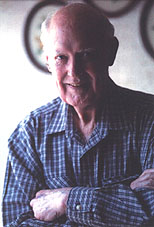 William James Morrow, DFC, OAM, FRHSV, ACIS, ACIM, ASA, always known as Bill, was born of Northern Ireland, Presbyterian stock in Camberwell (Melbourne) and went to Geelong with his parents less than a year later.  After schooling he joined the State Savings Bank of Victoria in Geelong in February 1939.  He joined the Australian Army in 1941, training at Mt. Martha before being sent to West Australia where he applied to join the RAAF, the transfer being approved in 1943.
After training at Victor Harbour and Canada he was posted to England in September 1944 where he joined 460 Squadron RAAF, which used Lancaster bombers.  Bill did 36 operational trips.  He then volunteered to join Tiger Force which was to operate against the Japanese.  During training a bomb exploded in the aircraft.  The crew bailed out and several were killed.  The survivors were awarded membership of the Caterpillar Club whose membership was restricted to those who had to bail out to save their lives.
Bill returned to the bank in 1945, studied accountancy, (CPA 1947), was appointed accountant at the Geelong Harbor Trust, eventually becoming the Trust's Secretary.   He taught accountancy at the Gordon Institute of Technology, Geelong for several years.  He married Audrey in 1954 and was active in district football and cricket and in Legacy.  Bill retired from the Port of Geelong Authority in 1982 after 37 years - 23 years as Secretary.
From 1967 to 1969 he was Secretary of the Geelong Historical Society and from 1970 until his death he was Secretary and Treasurer.  During this period he achieved distinction by indexing the Geelong Advertiser (1840 - 1940); indexing service personnel in both world wars mentioned in the Geelong Advertiser; summarising and indexing the Geelong Advertiser (1966 - 1967); writing a chronology of the Port of Geelong (1842 - 1970); indexing the fires that had occurred in Geelong; developing yearly chronologies of Geelong events from 1865 to 1900; writing the origins of Geelong street names; contributing to the Geelong Biographical Register; indexing the assisted immigrants to Victoria; indexing the yearly volumes of "Investigator".
For his services with 460 Squadron, which included his extinguishing a fire in an engine whilst on an operation, he received a DFC in 1945.  For his services to local history he received community service awards from the cities of Newtown (1988) and Geelong (1988).  He was made a life member of the Geelong Historical Society (1990) and a Fellow of the Royal Historical Society of Victoria (1991) and was awarded an OAM in 1995.  He received two Rotary Community Service Awards.  He was an active member of St. David's Uniting Church Newtown, Geelong.  He is survived by his wife, Audrey, and four children.
Written and published July 2000
---