The Earl of Charlemont sailed from Liverpool on 13th March, 1853 with 366 passengers plus crew.  The Captain was William Gardner - his first port of call in Australia was to be Port Phillip Bay before taking the majority of his passengers to Sydney.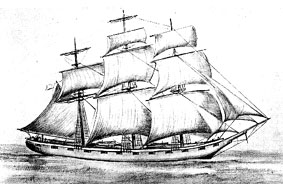 The Earl of Charlemont
 
On Saturday 18th June, 1853, the ship was wrecked off Barwon Heads after striking a reef which now bears its name - Charlemont Reef.
A great deal of information has been gathered on the Earl of Charlemont and the book has been published (274 pages plus photos).
Breakers Ahead ... Wreck of the Earl of Charlemont
Available from the author:
  Brian Latter, 35 Mollers Lane, Leopold, Vic, Australia 3224

Cost:
BOOK - $AUD 30.00 plus p&p ($8.00 in Victoria, $12.00 interstate, Overseas - on application)
CD Rom - $AUD 30.00 plus p&p ($3.50 in Australia, Overseas - on application)
NOTE : Overseas postage available from the author - NO EMAIL ADDRESS!
---