The first store on the corner of Melaluka Road and Queenscliff Road, Leopold, run by Mrs Maggie Long (nee McWilliams). It was pulled down circa 1921 and the present store built.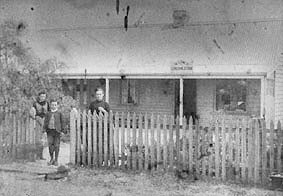 Maggie Long (nee McWilliams) and children outside Long's Store, on the corner of Melaluka Road and Queenscliff Road, Leopold.
[Photograph : courtesy of Myrtle Filbay, Leopold]
Reminiscences of Miss Mary Hoare who lived in Hoare's Lane, Moolap :-
The residence and store were attached with a long low verandah right along the front, the end section comprising the corner of the western wall running south. The shop front was facing north.
It was built off the road and a shelled path led up to the door. Outside the front fence, a number of posts were placed at intervals, each having an iron ring attached to which horses were tied while their owners were inside the shop, ordering or picking up the weekly supply of groceries.
The shop was rather small but its shelves were filled from floor to ceiling with goods for sale. Along one wall was a glass case in which medical lines were kept - Dr Jennings cough mixture for instance.
Each morning we called at the shop to order the daily newspaper - "Please Mrs Long, here is a penny for the Age tonight".
A few years later, we got the Age from the Post Office when the store stopped selling newspapers.
A glass case for lollies - milk poles, silver sticks, chocolate sticks, chocolate cream bars, chocolate guns, licorice straps, conversation lollies, licorice allsorts, Scotch mixtures, London mixtures, boiled lollies, ju-jubes, milk kisses.
At Christmas time the shop window, small by today's standards, would be gay with some extra decorations. As the festive season approached, surprise packets were displayed for either a penny, threepence or sixpence - each had a prize inside.
[From the files of the Bellarine Historical Society]
---