From the Echo, Wednesday 3rd January, 1996.
New life for old cottage

Work has begun on restoration of the early shepherd's cottage at Drysdale, believed to be the oldest building on the Bellarine Peninsula.

Bellarine Historical Society's Noel Lindsay says documentation confirms the building's existence as far back as 1860 but it could be even older. Local legend links it to the era of John Batman's visit in 1835, he says.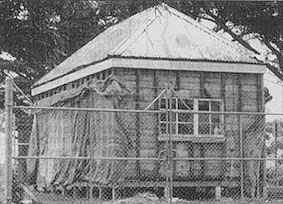 Shepherd's Cottage at Drysdale -stripped ready for restoration.
[Photograph : The Bellarine Historical Society photograph collection]
After having been rescued from demolition and been placed in storage for several years while a cultural assessment was prepared, the cottage has been relocated to a site adjoining the historic Drysdale Railway Station with assistance from the City of Greater Geelong.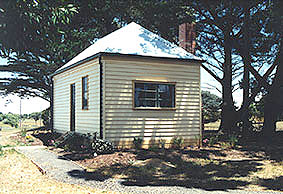 The restored Shepherd's Cottage near the historic Drysdale Railway Station.
[Photograph : The Bellarine Historical Society photograph collection]
---