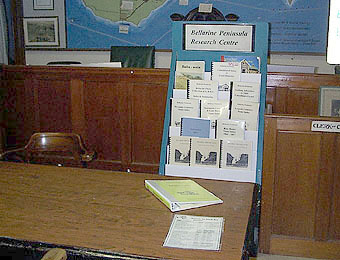 The Bellarine Research Centre
in the main Court Room
Court House Museum, High St, Drysdale
For many years the Bellarine Historical Society has held a wide range of records, documents and material which would delight most family and local history researchers.   Unfortunately it hasn't been easy to find particular references amongst this material.
Although we haven't yet achieved one central index, we now have indexes to many of our large collections.  And if they aren't yet indexed, then you will find simple to follow instructions on how to find that elusive entry.
There are now only FOUR simple steps to follow :
1.

Laminated Sheet

On one side "Where to look for People" and on the other "Where to look for Towns / Places / Buildings".

Each side contains a list of places to look including a brief description of the item and its location.


2.

Research Guides

Each item mentioned on the laminated sheet has a page in the Research Guides folder giving :-

Detailed physical description of the item

Precise location

Content Description

Steps on How to Use the item for the best results.

3.

Research Centre Indexes / Files - TWO options

These indexes are available for searching on the main computer. Some of the larger indexes / databases are ONLY available on the computer and not in printed form

OR

Most of the printed Indexes and books will be found in the Research Centre stand in the main Court Room near the table and chairs provided for researchers.  Larger items such as the Pioneer Registers and card indexes are held in the office - ask one of the volunteers for assistance in obtaining the item you want.

4.

Source Material

In many cases, the Bellarine Historical Society holds the source material or copies referenced in the indexes, however some items are only available in full from the Geelong Historical Record Centre, such as the Geelong Advertiser, Shire of Bellarine Rate Books and the Drysdale Court Registers (all on microfilm).
---