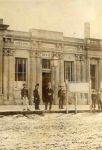 How many Time Capsules contain a copy of the Geelong Advertiser?
I have no idea but we're going to try to find out.  If you have any details or references to a Time Capsule that contains a copy of the Geelong Advertiser, you can send them in by completing the Time Capsule form.
---
Date

Place

Co

mments

c1865-66
Bellarine: Methodist Church, Church Road


A copy of the Geelong Advertiser and several other items were placed inside a sealed bottle.  It is possible that this may have been done at a later stage [1960s] when the church was renovated however from memory the Geelong Advertiser was much older and probably connected with the first date.

In 2002 the church and hall were sold with the hall becoming a cafe.  During major restoration work in the church the bottle with its contents was discovered.

1873, June
Shelford: old stone bridge
A copy of the Geelong Advertiser and several other items were placed inside the bridge when the masonry work had been finished.
1958, December
Geelong: City Library, Little Malop Street
A time capsule was recovered from the old building on Tuesday 9 July this year [2013 - during demolition of the building]. The capsule was installed during a ceremony to mark the laying of a foundation panel on Wednesday 17 December 1958.

The time capsule contained a copy of the Geelong Advertiser of that day, coins of the Realm minted in 1958, and a document listing the Mayor, Councillors and Officers of the Geelong City Council; the Geelong Library Committee Members; the Committee Secretary and the Chief Librarian.

1980, August
Bannockburn: Shire Hall
A lead cylinder, made by Robert Brown a local plumber, was sealed and placed behind the Foundation Stone.  In addition to information about the Shire and the building, the time capsule contained photographs and a copy of the Geelong Advertiser.
c1980-1982
Newtown, Geelong: Fyans Park Primary School, Cook Street
Jodie's class took part in compiling items to place inside the time capsule.  She cannot remember how many years it was supposed to remain sealed or where it was buried within the school grounds.  Mr Dudley Holroyd was Principal at the time.
2007, Nov 10
Geelong East Primary School, Boundary Road, East Geelong


Time capsule was buried on the school's 150th anniversary [near the stage area in the quadrangle.  It has a metal plate on it so a metal detector will find it.]

Due to be opened in 2032 at the school's 175th anniversary.

Contents include: Geelong Advertiser and Geelong Football Club Grand Final book.