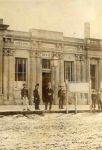 How many Time Capsules contain a copy of the Geelong Advertiser?
I have no idea but we're going to try to find out.  If you have any details or references to a Time Capsule that contains a copy of the Geelong Advertiser, you can send them in by completing the Time Capsule form.
---
 

Date

 

Place

 

Co

mments

1873, June
Shelford: old stone bridge
A copy of the Geelong Advertiser and several other items were placed inside the bridge when the masonry work had been finished.
1958, December
Geelong: City Library, Little Malop Street
A time capsule was recovered from the old building on Tuesday 9 July this year [2013 - during demolition of the building]. The capsule was installed during a ceremony to mark the laying of a foundation panel on Wednesday 17 December 1958.

The time capsule contained a copy of the Geelong Advertiser of that day, coins of the Realm minted in 1958, and a document listing the Mayor, Councillors and Officers of the Geelong City Council; the Geelong Library Committee Members; the Committee Secretary and the Chief Librarian.

1980, August
Bannockburn: Shire Hall
A lead cylinder, made by Robert Brown a local plumber, was sealed and placed behind the Foundation Stone.  In addition to information about the Shire and the building, the time capsule contained photographs and a copy of the Geelong Advertiser.